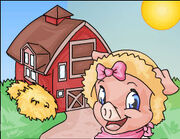 The Swap Barn is an alternative way for players to sell their items, whether it is for Powerbucks or for other items. All types of items can be sold, although the barn is more commonly used to trade "unbuyable" items (items valued over $200,000PBs).
In the Swap Barn, players can browse swaps to see what items are on offer, or simply use the Search Toolbar located at the top of the page to find what they need. To create a swap, the "Create Swap" button can be used, and players can follow the instructions there.
However, note that players cannot randomly set a price of their own liking - they can go maximum 30% over or under the average value indicated. Offers must also be equivalent to the set value of the item.
For gifting, giftswaps can also be created in the Swap Barn, where the recipient pays a token fee of $1PB as a formality to receive the gift.